BAND bio - deep dive
Forged: 2001 
Members: Scott Armstrong, Mark Armstrong, Blake Gibson, Zane Greig. 
Envisioned and made flesh by brothers Scott and Mark Armstrong in the summer of 2000/2001, theSlacks began literally from scratch. One $2 instant kiwi later and the fledgling fun-bus fuelled by fumes of rock n roll had in its possession two acoustic guitars, a $20 Bass Guitar and one 4-Track TASCAM recorder. Enter Slack.

Survivalists, Revivalists, Textual Pugilists and Proactivecrastinators, theSlacks is a band comprised of four close friends who share a few common drivers: love for "rock n roll" and the wide umbrella of its rebellious arms, love of word-play, love of horse-play and the joy of playing music together. 
theSlacks owe their self-pinned moniker "survivalists" to the Main Slacks Goal of writing, recording and performing good music with good people.  The philosophy being thus: if the essentials are taken care of, you can weather style storms and dire straits.
Proof of survivalist claims can be traced all the way back to the band's origins in the turbulent "burn and get burnt" 2000's through to the "A.I. does it cheaper" 2020's.  It wasn't any easier during the 2010's. The Mayan calendar was predicting the end of the world in less than 2 years and other than Lady Gaga's 'Bad Romance', it seemed the music had already died. But we endured.
***
theSlacks is very much a self-funded, self-managed and self-aware band.  It is the oldest, indie-est band still in operation in Aotearoa NZ, grudgingly accepting technology whilst gracefully accepting mortality.
After numerous recyclable national tours, 3 full-length studio albums, multiple singles and videos and a profile as big as a billionaire's tax payment, theSlacks continue to operate on the highly sustainable concept of "breaking even". Slack is the new black. Financially speaking.
the revivalists tag hangs largely because the music is inspired and informed by the sounds of the turbulent '60's whilst the stage show ignores a lot of modern technology by choice and circumstance and hold more admiration for instrument-bashing than precision-prerecording.
Textual Pugilists battle with words, in every sense of that phrase.  Lyrics are an essential Slack ingredient.  

Long hours stuck in second-hand vans, cross-crissing the country can become something less than arousing and indulging in games of a word-jousting nature and pun-upmanship sharpen the verbal knives and whet the wit.  It's a healthy obsession for songstriths.
And proactivecrastination?  It's in the nomenclature itself - you'll figure that one out, I'm certain.
*** 
Taking these slightly unorthodox factors into account, it's difficult to pin the band to any one genre which is something that is reflected in the various genre-tags theSlacks have claimed over the years - Country-Ska, Fizz Pop, Rural Drift. 
The list goes on and only gets wordier.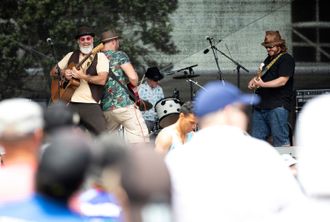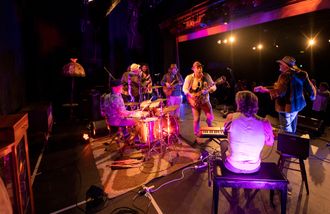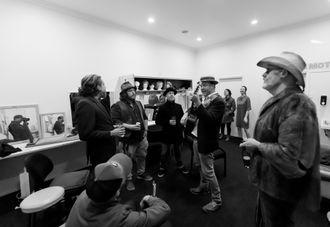 Information Ape.  release date: summer 2023.
Clearly a play on the term Information Age, the title of the album and lead single refers to modern society or people and their relationship with technology.  
Each song on the album is an observation on life as an information ape.  
The video for the single was made with this in mind - using the latest, most accessible (cheap) technology available to knock together a music video without much in the way of production polish.  The video was built from images created by an A.I. generator and stitched together with the most basic of care for production quality.   
High-level production quality often glosses over the validity of the message. It's a big part of what we're being fed via our phones and why people struggle to discern the likely from the unlikely.